85th Harden Conference: Dynamic Membrane Complexes: Respiration and Transport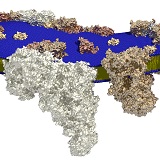 Over the last ~5 years, cryo-electron microscopy single-particle reconstruction and tomography have resulted in an extraordinary amount of structural information of respiratory membrane complexes, the value of which is yet to be fully explored. Even more recently, the importance of membrane protein dynamics, formation of supercomplexes and organisation within microbial (inner membrane) or mitochondrial cristae has been highlighted. These new insights have shaken the classical view of respiratory chains. An interdisciplinary evaluation of these results with experts from neighbouring fields such as protein-protein interactions, computational biology, dynamic membrane transport mechanisms and lipid biophysics is now needed to retain and even accelerate this momentum. Translation to the clinical sciences or an enhanced understanding of the structural dynamics for the functional properties of respiration and transport can also provide an opportunity to open up new fields of research.
The programme was designed to bring leaders in the fields of molecular respiration together with scientists working at the forefront of membrane transport, membrane structural biology and lipid biochemistry to create a more complete understanding of respiration and transport and explore further the relationship between function and disease.