87th Harden Conference: Single-molecule bacteriology II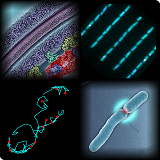 Single-molecule imaging has revolutionized our ability to study molecular processes underlying bacterial function. New fluorescent proteins and dyes, ultrasensitive microscopy, and image-analysis software have helped visualize reactions, interactions and motions inside single bacteria. In a sense, we are "re-discovering" bacteria with a new set of eyes.
The agenda of this interdisciplinary meeting will showcase exciting developments in this young field. This will include structural/mechanistic studies using super-resolution imaging and single-molecule microscopy, new quantitative in vivo techniques applicable to bacteria, complementary theoretical modelling approaches, and studies of clinical/commercial significance.
This topic is the theme of the 87th Harden Conference, an event series unique to the Biochemical Society, providing residential research conferences covering a specialist topic. These events are widely recognised for their emphasis on free and open discussion to encourage the exchange of the latest data and a critical discussion of the technical challenges that these developments face.