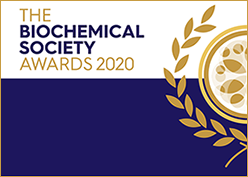 NEWS RELEASE
Twelve eminent scientists and exceptional early career researchers have been honoured in the annual Biochemical Society Awards. Each winner exemplifies the very best of the bioscience community in fields ranging from genetics and cell engineering to neuroscience and mitochondrial biology.
Dr Sarah Teichmann is Head of Cellular Genetics at the Wellcome Sanger Institute and her work focuses on deciphering the immune system with genomics and bioinformatics approaches. She receives the GlaxoSmithKline Award in recognition of her research leading to new advances in medical science. Dr Teichmann says:
"I am deeply honoured to be awarded the GlaxoSmithKline prize for 2020 by the Biochemical Society, which recognizes the work by my talented team and our collaborators. Together we have driven forwards the application of single cell genomics and computation to human tissues, providing new insights into the molecular and cellular details of development and disease, achieving deep insights into processes governing health and disease."

Dr Stephan Uphoff from the University of Oxford is the 2020 recipient of the prestigious Colworth Medal, awarded in recognition of outstanding research by a biochemist within 10 years of their PhD. His particular field of research focuses on understanding the mechanisms of DNA repair and mutagenesis in bacterial cells. In response to receiving this award, Dr Uphoff says:

"It is a huge honour to receive this award. The UK has a fantastic research community with great opportunities for young scientists. I hope we will foster this culture of openness and maintain a thriving research environment that promotes fundamental and interdisciplinary research."
The full list of recipients of the Biochemical Society's 2020 Awards are:

---
Centenary Award
Professor Dame Kay Davies, University of Oxford, UK

The Colworth Medal
Dr Stephan Uphoff, University of Oxford, UK

Early Career Research Awards
Dr Sara Priego Moreno, Salk Institute for Biological Studies, USA
Dr Andrew Hammond, Imperial College London, UK

Heatley Medal and Prize
Professor James Barber, Imperial College London, UK

Industry and Academic Collaboration Award
Professor Matthew Dalby, University of Glasgow, UK
International Award
Associate Professor Wai-Hong Tham, The Walter and Eliza Hall Institute of Medical Research, Australia

The Keilin Memorial Lecture
Professor Judy Hirst, MRC Mitochondrial Biology Unit, UK
The Morton Lecture
Professor Gurdyal Singh Besra, University of Birmingham, UK
Teaching Excellence Award
Dr Jo Rushworth, De Montfort University, UK
The GlaxoSmithKline Award
Dr Sarah Teichmann, Wellcome Sanger Institute, UK
The Thudichum Medal
Professor Maria Grazia Spillantini, University of Cambridge, UK
---
You can read more about the recipients here
Professor Colin Bingle, Professor of Respiratory Cell and Molecular Biology at the University of Sheffield, and Chair of the Biochemical Society's Awards Committee, says:

"Scientists and researchers in the biosciences community play a valuable part in society and the Biochemical Society Awards are the perfect way to honour those exceptional individuals who are leading the way. As ever, the standard of the nominees was incredibly high and our winners can be justifiably proud of their achievements. The awards provide recognition of their professional excellence and are a real tribute to the talent within the biosciences. On behalf of the Society, I'd like to congratulate all of the winners, every one of whom has made an outstanding contribution in their respective fields. Well done."


Each year the Biochemical Society presents a series of prestigious awards that recognize excellence and achievement in both specific and general fields of science. Six of these awards are presented annually and the remaining are awarded either biennially or triennially. Candidates are nominated by their peers and the winners are agreed by a judging panel of respected scientists, from across a range of different scientific backgrounds.
These winners will receive their prize and deliver an award or medal lecture in 2020. All of the awards and medal lectureships carry prize money and, as part of the prize, winners will also be invited to submit an article to one of the Society's publications.
Nominations for the Biochemical Society's 2021 Awards open in August 2019 and can be made by and for members and non-members alike.

For more information, quotes and images, please contact:
Katie Crabb, Marketing & Communications Manager, Biochemical Society
Email: katie.crabb@biochemistry.org