Past Award Winners
Please use the filters below to view the recipients from a specific year
FILTERS ()
2024, Biochemical Society Awards
Paul Lehner
Significant Breakthrough or Achievement
Paul Lehner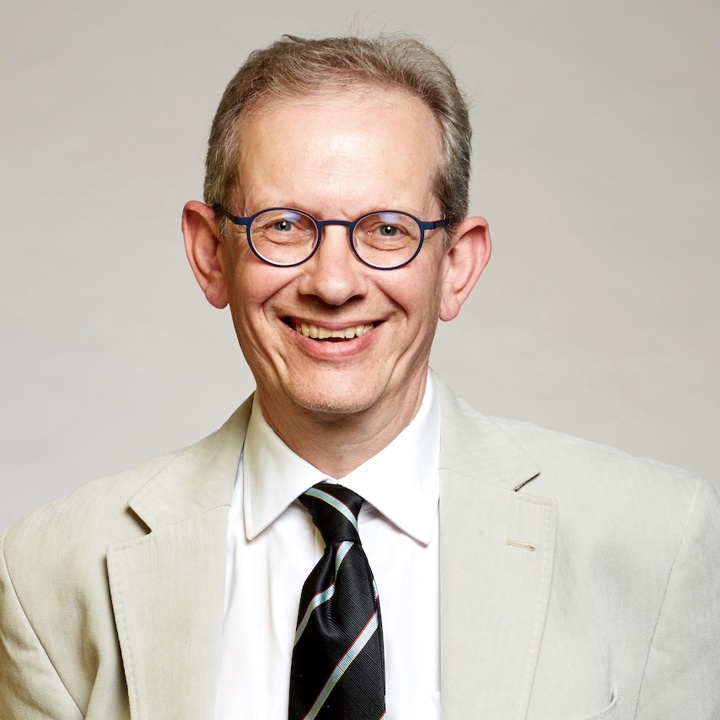 Wellcome Trust Principal Research Fellow
University of Cambridge
The 2024 Biochemical Society Award - Significant Breakthrough or Achievement will be presented to Professor Paul Lehner. Paul's work sits at the interface between immunology, virology and cell biology and he applies genetic and proteomic technologies to study viral interactions with the immune system. Prominent among these are his discoveries of novel pathways of viral evasion, his application of unbiased quantitative proteomics to understand how viruses remodel the infected cell, and his identification of epigenetic pathways for silencing DNA.
He discovered and characterised the Human Silencing Hub (HUSH), an epigenetic transcriptional repressor complex which silences DNA that has invaded the vertebrate genome. HUSH defends the host genome from first-line attack by silencing invading elements, including retroviruses and mobile endogenous retrotransposons e.g. LINE1 elements. He showed how HUSH has a remarkable ability to distinguish 'self' from 'non-self' DNA in the genome, a cellular compartment not thought to be visible to the immune system. This discrimination of 'self' from 'non-self' genomic DNA occurs through the recognition of 'intronless' cDNA, the hallmark of reverse transcription. The key function of HUSH is therefore to protect the genome from the reverse flow of genetic information i.e. RNA to DNA. Paul's work has therefore revealed an unanticipated transcription-dependent mechanism of genome immune-surveillance, a novel function for cellular introns as well as a new arm of the innate immune system.
On winning the Biochemical Society Award - Significant Breakthrough or Achievement for 2024, Paul said: "It is a great honour to be the recipient of this Biochemical Society Award. It recognises the achievements of so many talented people I've been fortunate enough to work with in the lab – who together have made this award possible. I am also grateful to my mentors as well as the Wellcome Trust, Medical Research Council and Lister Institute for their generous support of our work."
2024, Biochemical Society Awards
Joanna Wardlaw
Sustained Excellence
Joanna Wardlaw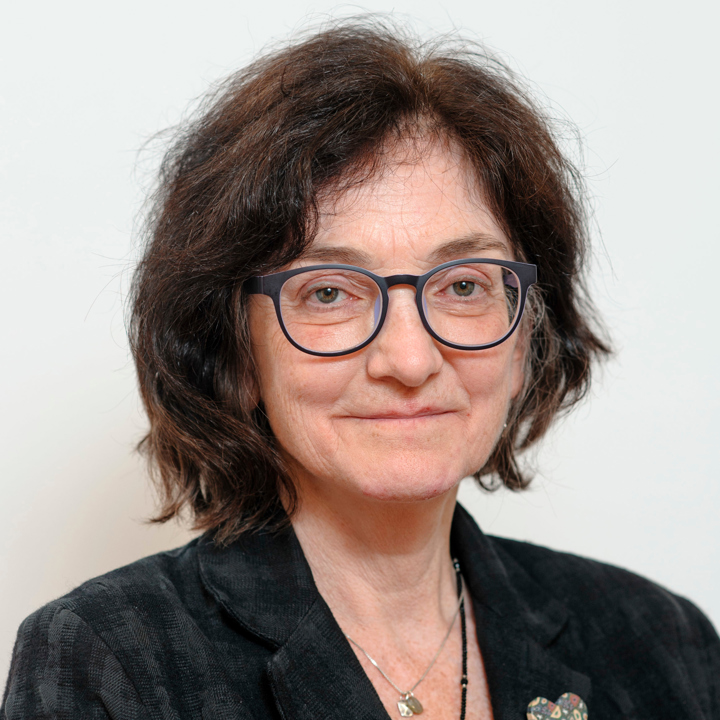 Professor of Applied Neuroimaging
University of Edinburgh
The 2024 Biochemical Society Award - Sustained Excellence will be presented to Professor Joanna Wardlaw. Joanna, CBE, MD, FRSE, FMedSci, is Professor of Applied Neuroimaging at the University of Edinburgh, Foundation Chair in the UK Dementia Research Institute, and Consultant Neuroradiologist for NHS Lothian. Her work focuses on understanding the brain and its blood supply, and on treatments to improve blood flow to the brain, including thrombolytic drugs that are now in routine use to treat stroke, and more recently on treatments for small vessel disease and dementia. Working with many colleagues, she has been instrumental in advancing understanding of the causes of cerebral small vessel disease and is now testing promising treatments in clinical trials. She has set up national research imaging facilities, co-ordinated international research networks, advanced stroke care worldwide and published over 1000 papers. A Fellow of the Royal Society of Edinburgh and of the UK's Academy of Medical Sciences, she was awarded the American Heart Association's Feinberg Award for Clinical Advances in Stroke in 2018, the European Stroke Organisation President's Award (2017), the Karolinska Stroke Award (2018), the British Neuroscience Association Award for Outstanding Contribution to Neuroscience (2021), and was made a Commander of the Order of the British Empire (CBE) for services to Medicine and Neuroscience in 2016.
On winning the Biochemical Society Award - Sustained Excellence in 2024, Joanna said: "It is a huge honour to have been recognised by The Biochemical Society with the Sustained Excellence Award 2024. I feel deeply humbled, since my work is highly collaborative and depends on the contributions of many others, and grateful for the attention that this award will bring to our efforts to improve the lives of people affected by brain blood vessel diseases."
2024, The Centenary Award
Gideon Davies
Royal Society Ken Murray Research Professor
University of York
The Centenary Award will be presented to Professor Gideon Davies in 2024. Gideon obtained his PhD from the University of Bristol in 1990 before moving to the EMBL Hamburg. He moved to York, with visits to Grenoble and Uppsala before taking up a Royal Society University Research Fellowship (URF) in 1996. In 2000, he was the inaugural "Peter Wall Catalytic Visitor" at the University of British Columbia before being made a full Professor of the University of York in 2001. In 2016, he received the Royal Society "Ken Murray" Research Professorship. His research work spans chemistry and biology with a focus on the enzymes that synthesise and degrade carbohydrates and glycans. He is well known for his work on enzyme mechanism, following the unusual contortions of sugars in enzyme active sites, and building on this to develop inhibitors and more recently activity-based probes. Recent impact includes the development of inhibitor classes that underpinned the development of compounds in clinical trial for neurodegeneration, studies of the human heparanase enzyme and development of new anti-cancer compounds as well as applying activity probes and new chemistries in the field of industrial biomass conversion.
On winning the Centenary Award for 2024, Gideon said "It is especially important to me that this award, beyond research impact, also reflects a commitment to nurture talent within the scientific community. I am so proud of the wonderful, diverse, group of young and early-career scientists I have worked with throughout my career and to see them thriving in academia, industry, education and child support is the true highlight of my career. I hope the award will inspire other young scientists, from all backgrounds, to dive into the exciting world of the glycosciences."
2024, The Colworth Medal
Kelly Nguyen
Independent Investigator
MRC Laboratory of Molecular Biology
The 2024 Colworth Medal will be presented to Dr Thi Hoang Duong (Kelly) Nguyen. Kelly completed her bachelor at the Australian National University and PhD at the MRC Laboratory of Molecular Biology (MRC-LMB) with Dr Kiyoshi Nagai. During her PhD, she used X-ray crystallography and cryo-EM to study the mechanism of the spliceosome, a large protein-RNA complex involved in premature mRNA splicing. Her work led to important insights into the structures of large spliceosome components and the activation of the spliceosome. She began her telomere and telomerase research during her time as a Miller Research Fellow in the laboratories of Professors Kathleen Collins and Eva Nogales at the University of California, Berkeley. Telomeres protects the chromosome ends and thus are essential for genome stability. Her postdoctoral work unveiled the first cryo-EM structure of human telomerase, the enzyme which replenishes telomeres to compensate for the telomere loss during genome replication. As an independent investigator at the MRC-LMB, her laboratory studies the molecular mechanisms of telomere maintenance using a combination of biochemistry, structural biology at different spatial scales and in vivo functional studies. The mechanistic insights gained from this research will shed light into how telomere dysfunction gives rise to human diseases such as cancers and aging.
On winning The Colworth Medal for 2024, Kelly said: "I am very delighted to receive The Colworth Medal from the Biochemical Society. I would like to share the honour with all the past and present laboratory members, mentors, colleagues and collaborators, who have all made essential contributions every step of this journey. I would also want to highlight the stimulating and supportive environment at MRC-LMB that has greatly shaped my scientific approaches. Being recognized in this way is very encouraging for my laboratory and will motivate us to continue tackling challenging problems and making exciting discoveries."
Photo credit: MRC Laboratory of Molecular Biology
2024, Early Career Research Awards
Benjamin Schumann
Group Leader
The Francis Crick Insitute and Imperial College London
One of the 2024 Early Career Research Awards will be presented to Dr Benjamin Schumann. Ben studied Biochemistry at the University of Tübingen. Interested in chemical tools to further biology, he performed his doctoral work in carbohydrate chemistry with Peter H. Seeberger at the Max Planck Institute Potsdam and the FU Berlin. He developed vaccines against pathogenic bacteria based on synthetic glycans, learning to apply his compounds in vivo and in vitro and receiving the Award for Excellence in Glycosciences as well as the Otto Hahn Medal by the Max Planck Society.
During his postdoctoral work in the lab of Carolyn R. Bertozzi at Stanford University as an Alexander von Humboldt Foundation fellow, Ben developed an interest for bioorthogonal tools to study glycosylation of human cells in great detail. He started as a Group Leader at the Francis Crick Institute and Imperial College London in 2018 to develop so-called chemical "precision tools" to investigate individual glycosyltransferase enzymes, using a combination of chemoenzymatic synthesis, molecular cell biology and glycoproteomics. The lab was part of a large international team that received the 2021 Rita and John Cornforth RSC Horizon Prize in Chemical Biology. Ben is an EMBO Young Investigator and received an ERC Starting Grant in 2023, now covered by the UKRI Guarantee scheme.
On winning the Early Career Research Award in 2024, Ben said: "I am extremely grateful to be receiving this award which is a testament to my group's hard work. The Biochemical Society provides an outstanding platform to forge connections, allowing us to establish our chemical "precision tools" in modern quantitative biology."
2024, Early Career Research Awards
Mattie Pawlowic
Principal Investigator
University of Dundee
One of the 2024 Early Career Research Awards will be presented to Dr Mattie Pawlowic. Mattie earned her undergraduate degree and PhD from Texas Tech University working in the laboratory of Kai Zhang. She then joined Boris Striepen's lab, then at the University of Georgia, for her postdoctoral work. She was a part of a team that developed CRISPR for Cryptosporidium. Cryptosporidium is a protozoa that is a leading cause of diarrehal disease in malnourished children. There is no vaccine, no effective treatment, and very little of the basic biology is understood. In 2017 Dr. Pawlowic joined the University of Dundee as a PI and Sir Henry Dale Fellow. Her group studies how Cryptosporidium parasites are transmitted using genetic and biochemical approaches. The lab also collaborates with drug discovery scientists to advance emerging therapeutics. Dr. Pawlowic also co-founded SPPIRIT, a network to connect parasitology researchers across Scotland and support career development for ECRs.
On winning the Early Career Research Award for 2024, Mattie said: "I am really honoured and thrilled to receive this award. I would like to thank the group at Dundee who nominated me for this award, my lab for their hard work, and my collaborators for their support of my growing group. This award will allow me to attend a Biochemical Society meeting and share our group's work, as well as be mentored by an Associate Editor. These experiences will greatly support myself and my lab group."
2024, Research Support Award
WEHI Bioservices Team
WEHI Bioservices Team
Walter and Eliza Hall Institute of Medical Research
The 2024 Research Support Award will be presented to the WEHI Bioservices Team. For decades, mouse models have fulfilled one of the most valuable roles in medical research. Mice bred specifically pathogen free, mice transgenic for a researcher's gene of interest, or have the gene deleted altogether. Mice which are the result of several generations of breeding different knockouts together. A programme of research may involve analysing the immunology of these mice, their organs, their responses to environmental cues, infections or a range of behavioural activities.
The breeding and experimental activities performed to care for and assess these mice are complex and detailed. The work to achieve excellent animal husbandry and welfare while ensuring accurate and well documented results for researchers is vast. A team of almost 90 animal technicians and attendants at the WEHI, perform this work every day of the year.
Our technicians are trained to provide highly regulated animal welfare, to identify a range of phenotypes and illnesses in mice, and to perform complex experimental procedures while ensuring animals are treated with compassion and respect. This team of technicians works collaboratively with researchers in over 50 laboratories to ensure that each experiment provides data to researchers and supports an efficient and effective use of our scientists' research dollars.
On winning the Research Support Award for 2024, the team said: "The Bioservices Team are delighted to receive the 2024 Research Support Award from the Biochemical Society. We are honoured by the recognition that this award represents and the acknowledgement of the hard work and dedication that the team demonstrates to the animals in their care, providing continuing research support in Australia. We would like to extend our thanks to WEHI director Professor Doug Hilton for nominating the team for this award and Professor Kile and Professor Strasser for their support of the nomination."
Team representatives included in the photo (from left to right):
Jaclyn Gilbert, Bioservices Supervisor
Jessica Mansheim, Barrier Co-ordinator
Dannielle Cooper, Bioservices Supervisor
Giovanni Siciliano, Assistant Facility Manager, Parkville
Tracey Ballinger, Bioservices Supervisor
Julie Merryfull, Facility Manager, Parkville
Amanda Dickson, Facility Manager, Kew
2024, International Award
Marnie Blewitt
Joint Division Head for Epigenetics and Development
Walter and Eliza Hall Institute of Medical Research
The 2024 International Award will be presented to Professor Marnie Blewitt. Marnie's lab focuses on understanding the mechanisms of epigenetic control, and how such mechanisms can be manipulated in the context of disease. She uses functional genetic screens to identify epigenetic regulators, which she started as a PhD student with Emma Whitelaw at The University of Sydney. After graduating from her PhD in 2005, Marnie took up an Australian National Health and Medical Research Council post-doctoral fellowship with Prof. Doug Hilton at WEHI to work on the novel protein SMCHD1 that she identified in her PhD. This work earned her the Australian Academy of Sciences Gani medal.
In 2010, Marnie established her own lab at WEHI as an Australian Research Council Queen Elizabeth II fellow, continuing to work on epigenetic mechanisms. During this period, Marnie created the first and very popular massively open online course on Epigenetic control via Coursera.org. Her recent work on SMCHD1 and mechanisms of epigenetic silencing earned her the Genetics Society of AustralAsia Ross Crozier medal. In 2017, Marnie created the Epigenetics and Development Division at WEHI, which she jointly leads with Prof. Anne Voss, as an Australian National Health and Medical Research Council Leadership fellow.
On winning the International Award for 2024, Marnie said: "This is an amazing surprise! I am very grateful for the award, which really recognizes the amazing work of all my wonderful past and present team members. I am so lucky to have had the privilege of working with brilliant scientists. Thanks to everyone."
2024, The GlaxoSmithKline Award
Ellie Tzima
Professor of Cardiovascular Biology
University of Oxford
The GlaxoSmithKline Award will be presented to Professor Ellie Tzima in 2024. Ellie has been a Wellcome Senior Fellow in Biomedical Sciences and Professor of Cardiovascular Science at the Radcliffe Department of Medicine and the Wellcome Centre for Human Genetics at the University of Oxford since 2015. Ellie was Assistant and Associate Professor at the University of North Carolina at Chapel Hill from 2005-2015. Ellie was an AHA-postdoctoral fellow in Martin Schwartz's laboratory at the Scripps Research Institute (La Jolla) from 2000-2004, working on endothelial mechanotransduction, and a Senior Postdoctoral Fellow in Paul Schimmel's laboratory investigating cell signalling activities of aminoacyl tRNA-synthetases. Ellie has been funded by major grants from the NIH, Wellcome, BHF and MRC, served as Director of Graduate Studies, and was on the Editorial Board of Circulation Research and ATVB. She was a recipient of an American Heart Association Established Investigator Award, Ellison Medical Foundation Scholar in Aging and a member of several grant panel reviewing committees.
Together with a talented and enthusiastic team of students and postdocs, Ellie investigates how cells sense and respond to mechanical forces and the role of mechanotransduction in homeostasis and pathology.
On winning The GlaxoSmithKline Award for 2024, Ellie said: "I am humbled and honoured to receive this award. It is a testament to the wonderful people who have been part of my journey and the stimulating collaborations and incredible support I have had from mentors, family and friends over the years."
2024, Teaching Excellence Awards
Emma Yhnell
Early Career
Senior Lecturer
Cardiff University
The 2024 Teaching Excellence Award - Early Career will be presented to Dr Emma Yhnell. Emma is a passionate and multi award-winning educator, science communicator and Senior Lecturer based at Cardiff University. Emma obtained a BSc degree in Biochemistry before completing a PhD in Huntington's disease. She then began an independent research fellowship funded by the Welsh Government through Health and Care Research Wales to translate her findings on cognitive training into the patient clinic. Emma's clinical research inspired her and demonstrated the need to provide accessible and engaging information. Working currently as a teaching and scholarship focused Senior Lecturer, Emma now teaches the next generation of budding scientists. Using her international expertise in science communication, she delivers engaging and interactive teaching sessions with passion and infectious enthusiasm. Emma is a well-respected academic who has built a reputation for her ability to untangle the academically technical and translate it into entertaining, relevant and engaging content. In 2022 she was elected to the Learned Society of Wales as the youngest ever Fellow. As a first generation academic with expertise in equity, diversity and inclusion, Emma is changing the typical image of teaching in Higher Education by making science more open, honest and fun. 
On winning the first Teaching Excellence Award - Early Career, Emma said: "Wow, I am absolutely ecstatic and incredibly humbled to win the Biochemical Society's Teaching Excellence Award - Early Career in 2024! Thank you so much / diolch yn fawr iawn to those who nominated me and supported my application. I want to use this award to encourage others to try out innovations in their own teaching, whether that is incorporating a prop, trying some interactive polling or even playing some music; give it a go, I am sure that your students will massively appreciate it. Pursuing a career in teaching has been the best career decision and it is such a pleasure and a privilege to play a small part in helping our Bioscience students to understand complex topics. I will keep doing my best to make teaching in Higher Education more accessible, inclusive and fun so that all students can reach their full potential."
2024, Teaching Excellence Awards
Ellie Davison
Established Educator
Director of Teaching and Learning
University of Lincoln
The 2024 Teaching Excellence Award - Established Educator will be presented to Dr Ellie Davison. Ellie is the Director of Teaching and Learning for the University of Lincoln Science Foundation Year (SFY), providing a year zero for over 40 programmes across the College of Science. Drawing on her collaborative skills, developed during an early career in genetics research, and her pedagogic expertise cultivated during her years as an 'outstanding' secondary school science teacher, Ellie leads teaching and learning for over 250 students a year who have faced barriers to learning or have non-traditional qualifications. Ellie ensures that flexibility and inclusive design are built-in as default, with multi-format learning activities, differentiated resources, and an assessment strategy that enables all students to showcase their strengths. She embeds transferable academic and holistic skill development into the curriculum, including maintaining positive mental health, ensuring students thrive in future years of their degree and beyond. Ellie supports colleagues across and beyond the institution to develop their inclusive practice, and devises opportunities for students to develop their own teaching and pedagogic research skills. Ellie led SFY to national recognition with a CATE award for 'closing well known attainment gaps' and is recognised by the sector as a National Teaching Fellow (NTF) for 'spearheading the provision of a transformative education'.
On winning the Teaching Excellence Award - Established Educator in 2024, Ellie said: "I'm thrilled to receive the Biochemical Society Teaching Excellence Award and to be able to champion our magnificent foundation science students who, often against a backdrop of personal challenges or circumstances, enrich our institutions with their determination to succeed."
2024, The Morton Lecture
Michael Ferguson
Michael Ferguson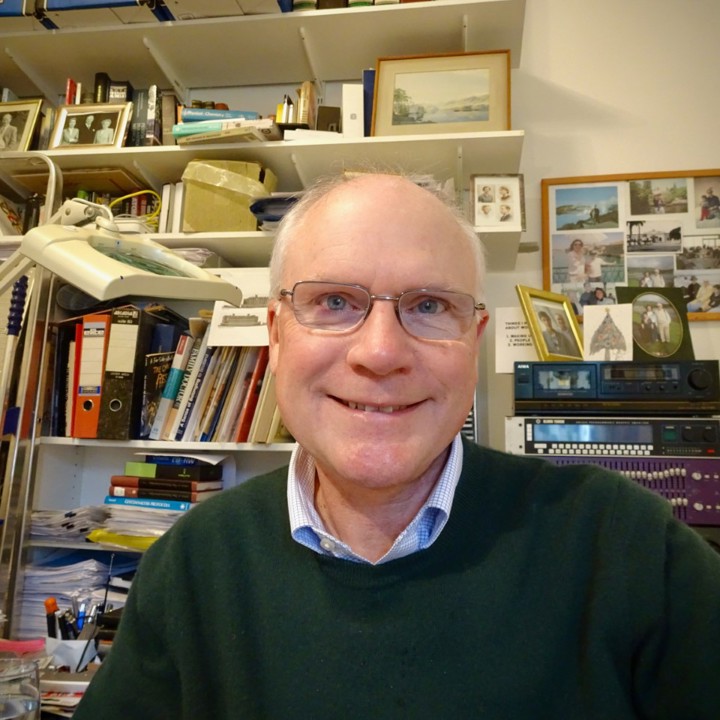 Regius Professor of Life Sciences
University of Dundee
The 2024 Morton Lecture will be presented to Professor Sir Michael Ferguson. Mike studies the biochemistry of protozoan parasites, and in particular their glycobiology. The cell surfaces of trypanosomes and related parasites are dominated by glycosylphosphatidylinositol (GPI) anchored molecules and Trypanosoma brucei provided him with an ideal system to solve the first GPI chemical structure, and to delineate common and parasite-specific aspects of GPI biosynthesis.
With colleagues, he established the Drug Discovery Unit at the University of Dundee in 2006, which has resulted in compounds in Phase 1 and 2 clinical trials and in the generation of spin-out companies. Mike is also co-Director of the Dundee Proteomics Facility, one of the largest in Europe, that accelerates discovery and translational science.
Mike believes that research should generate new knowledge and, when appropriate, provide returns for its key stakeholders: patients and the taxpayer. He is working with colleagues to commercialise intellectual property to the benefit of an economically depressed region of the UK.
He was a member and deputy chair of the Wellcome board of governors (2012-2021) and currently serves on the boards of the Medicines for Malaria Venture (MMV) and UK Biobank.
On winning The Morton Lecture in 2024, Mike said: "I am delighted to receive the honour of the 2024 Morton Lecture of the Biochemical Society. Our work on glycosylphosphatidylinositols (GPIs) stetches over many years and has involved many colleagues and collaborators. In accepting this honour, I want to thank and acknowledge all of them."
2024, The Keilin Memorial Lecture
Michael Duchen
Professor of Physiology
University College London
The 2024 Keilin Memorial Lecture will be presented to Professor Michael Duchen. Michael was born in South Africa, moving to the UK as a child. He studied Physiology and Medicine at Merton College, Oxford and was fortunate to win a summer scholarship at the Weizman Institute with Prof Roy Caplan where he was introduced to basic principles of bioenergetics. He completed his medical training at St George's Hospital Medical School in London where he then worked as a junior hospital doctor in a range of specialties, including a period working at St Barnabas Hospital, a rural hospital in the Transkei, in South Africa.
After completing the MRCP, he moved to the UCL Department of Physiology to embark on a PhD, supervised by Prof Tim Biscoe. He has stayed at UCL ever since – in fact he still occupies the 'Starling' lab in which he did his PhD work, although substantially refurbished! – first as a Royal Society University Research Fellow, then as Reader and Professor.
His early research focused on neurotransmitter receptor biology, but he became interested in mitochondrial bioenergetics first through studies of oxygen sensing in the carotid body, later becoming fascinated by mitochondrial cell biology, in the dialogue between cell signalling pathways and mitochondria, and in the roles of mitochondrial dysfunction in disease, which is where work in the lab is now mostly focused.
On winning the Keilin Memorial Lecture for 2024, Michael said: "I have been incredibly lucky to have a succession of really wonderful young people working with me over the years who have all contributed to this achievement. The award of the Keilin Lecture recognises and validates years of work by that team who I am fortunate to represent. This validation is a great encouragement to pursue new ideas in mitochondrial cell biology with an ambition to understand mechanisms of disease. It would be immensely satisfying for me to complete the circle, applying principles we have learned over many years of work in basic mitochondrial cell biology to identify treatment strategies for people with otherwise intractable clinical problems that I originally encountered as a young doctor. This is my ultimate ambition."
2024, Industry and Academic Collaboration Award
DDU-GSK Kinetoplastid Drug Discovery Team
DDU-GSK Kinetoplastid Drug Discovery Team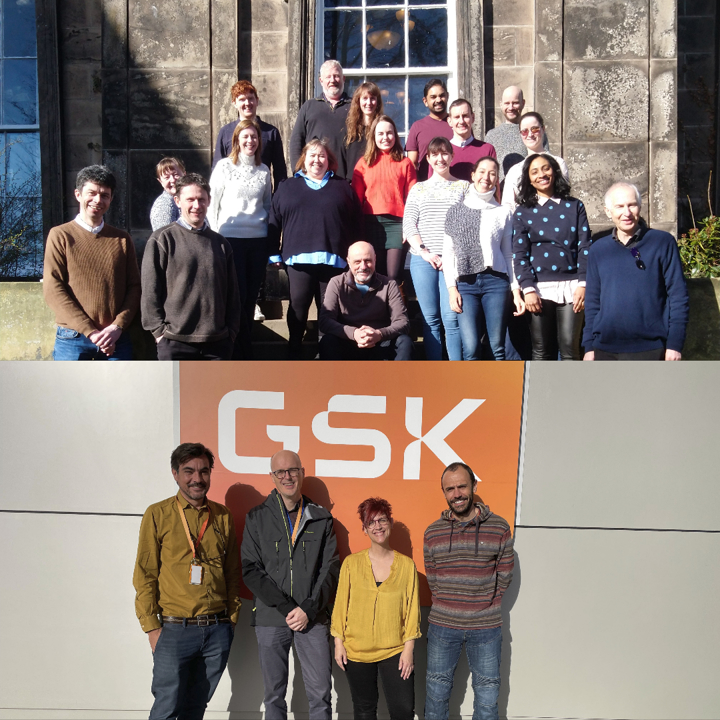 University of Dundee Drug Discovery Unit and GSK Global Health
UK and Global
The 2024 Industry and Academic Collaboration Award will be presented to the DDU-GSK Kinetoplastid Drug Discovery Team. In 2011 the Drug Discovery Unit (DDU) at the University of Dundee and GSK Global Health started a formal collaboration to discover and develop new drug candidates for the neglected tropical diseases leishmaniasis and Chagas disease. The group was initially supported by a 5-year award from Wellcome, followed by several further Wellcome awards as well as significant in-kind contributions from GSK. The collaboration covers the entire pre-clinical drug discovery pipeline, from hit discovery to pre-clinical candidate selection. The team consists of over 20 scientists in the DDU and at GSK global health. Access to knowhow and resource from across the company is available at GSK as needed. The collaboration is currently led by Manu De Rycker at the DDU and Tim Miles at GSK. Leishmaniasis and Chagas disease are two infectious diseases caused by related parasites from the kinetoplastid family and affect many millions of people worldwide. Currently available drugs have significant drawbacks and there is an urgent need for new, better treatments. In spite of this, there are few concerted drug discovery efforts aimed at tackling these diseases. The fully integrated DDU-GSK collaboration is world-leading in terms of addressing this gap and has successfully delivered two compounds to human clinical trials.
On winning the Industry and Academic Collaboration Award for 2024, the team said:
Manu De Rycker, DDU: "The Team is delighted to win the Industry & Academic Collaboration Award. It's great recognition of a truly integrated industry-academia collaboration that has delivered multiple clinical candidates for Neglected Tropical Diseases. The success of our collaboration is down to a brilliant group of like-minded scientists working together towards a single aim."
Tim Miles, GSK: "As scientists, we hope that our work will have a positive impact on society and GSK's collaboration with DDU is a great example of how high quality science and effective industry-academic partnerships can do that, in this case by delivering promising drug candidates for some of the most neglected populations in world."
Kevin Read, DDU: "It has been a real privilege to have been part of such a great team of scientists since the inception of this industry-academic partnership. A fully integrated team with the passion and drive to deliver new safe and effective treatments to those populations most in need."
Maria Marco, GSK: "It's a great honour for the Team to receive this Award, thank you very much. It's inspiring to be part of such a committed, highly innovative and integrated group of scientists who are passionate about delivering potential treatments for NTD patients that urgently need them."