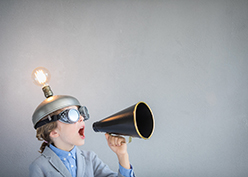 The Biochemical Society is pleased to announce the winners of its Science Communication Competition 2019. Now in its ninth year, the competition attracts entries from all over the world which were reviewed by a judging panel of scientists and science communication specialists.
The 2019 prize winners are:
Judy Sayers from University of Cambridge, with a poem on the use of CRISPR/Cas9 in human embryos titled A Tale of Two Twins (first prize – written entry)
Patrick Shearer from University of Glasgow, with a fictional narrative on HIV titled Fighting For Your Life (second prize – written entry)
Katie Ember from University of Edinburgh, with a non-fiction piece on GMO and non-GMO food titled Apples is apples, unless they're not (third prize – written entry)
Emily Armstrong from University of Glasgow, with a video on plant biology and how Brexit is changing our food supply (first prize – video entry)
Louise McAteer from Trinity College Dublin, with a video on energy metabolism (second prize – video entry)
Amber Barton from University of Oxford, with a video on the pathogenesis of typhoid fever (third prize – video entry)
Dr Helen Watson, Chair of the Biochemical Society's Education, Training and Public Engagement Committee, said: "We were pleased to see such a variety of interesting and creative entries to this year's competition. Science is often a complex and challenging topic to communicate so it's essential that we continue to encourage and support effective science communicators to help promote better understanding of these important topics amongst wider society."
The winning articles are included within the Society's bi-monthly magazine, The Biochemist, and published online with the winning video entries.
When notified of her first prize win in the video category, Emily Armstrong said: "I am absolutely blown away by being awarded first prize for my video to the Biochemical Society. It's so important the public understands how and why we study plants, as our entire society is built on plants as both food and fuel. Plant scientists must effectively communicate that our reliance on plants is universal, and we need do everything we can to understand them."
The Biochemical Society's annual Science Communication Competition celebrates outstanding science communication, encouraging undergraduate and postgraduate students to develop their skills in scientific public engagement.  Entrants must submit an engaging article or video explaining an aspect of biomolecular science to the general public.
For more information, visit our Science Communication Competition page.