Funding of up to £2,000 is available to support collaborative visits to UK and international laboratories.
Foster collaboration and develop essential biochemistry techniques with our brand new Lab Visit Grants! Available to Postgraduate, Early Career, Full and Emeritus members, these grants support laboratory visits within the UK or overseas to undertake training, educate partners on new advances, or analyse results.
Offered as an expansion of our General Travel Grants scheme, we are now offering funding of up to £2,000 to contribute towards travel and accommodation costs. Applications are welcomed for lower amounts of funding as well. 
Please note that this would not affect your eligibility to apply for a General Travel Grant or Online Attendance Grant, provided you do not exceed a maximum of £3,000 in total funding within a 2-year period.
Hear from a previous awardee!
"This grant allowed me to spend a week with the Geri lab, who are developing cutting-edge tools to perform proximity proteomics at super-resolution spatial scales (as low as 2 nm!). Whilst there, the team showed me how to generate the photocatalysts and diazirine probes, conjugate catalysts to antibodies, perform blue light proximity reactions with their custom designed photoreactor (giving me tips on how to build my own!), perform streptavidin enrichment and on-bead tryptic digestion using their automated robotic platform, followed by analysis of MS-data using their custom written analytical pipeline. I was able to generate data that I included in a recent grant application that, if funded, will allow me to start my own lab.
I also had the opportunity and privilege to see their ongoing work, which could be of huge interest to my future research interests, as well as share my own research with the team. Jacob and the team were fantastic hosts, and I plan to return in a few months to scale up my interaction with them, applying their technologies to assessing which cells within human blood interact with immune checkpoint antibodies with varying efficacy."
Jonathan Worboys, University of Manchester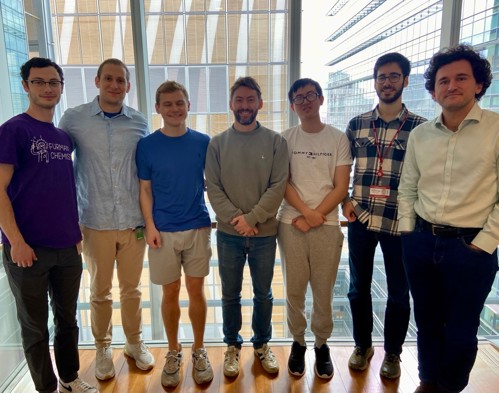 Contact us
For further information please get in touch with the Grants department.
Related grants
Please find other related funding opportunities below.