This award recognises an outstanding early to mid-career individual or team who has made an inspirational contribution to the biosciences and to industry–academia interactions.
The Industry and Academic Collaboration Award is presented annually to an outstanding individual or team who has made an inspirational contribution to the biosciences and to industry–academia interactions. This award aims to recognize the achievements of early to mid-career scientists from anywhere in the world. 
A grant to attend a relevant event or training course 
A trophy 
The opportunity to present a lecture at a Society event or webinar 
An invitation to submit an article to one of our journals, with any fees waived
Eligibility criteria:
Awarded to an outstanding individual or team who has made an inspirational contribution to the biosciences and to industry–academia interactions 
Nominees are typically mid-career, within 10-20 years of receiving their highest qualification 
Nominees must demonstrate commitment to build, support, and nurture future talent 
Open to nominees based in the UK or internationally 
This award is open to individuals and teams 
The Awards Committee will consider the following aspects of all nominations for the Industry and Academic Collaboration Award as appropriate:
Scope and scale of collaboration 
Originality of scientific contribution   
Achievements and impact  
Quality of outputs – publications and/or patents and/or software 
Industry-academic interactions  
Commitment to build, support, and nurture future talent e.g., mentorship 
Other indicators of esteem demonstrated by the nominator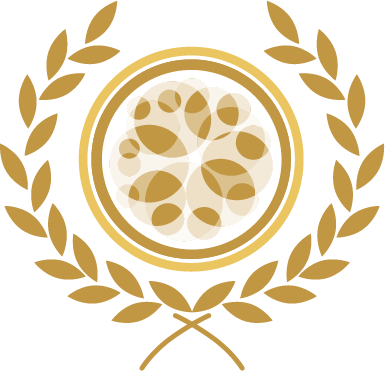 Nominations for the 2025 Awards are now open.
Submit an initial nomination for the Industry and Academic Collaboration Award by 1 November 2023.
Nominate now
Recipients
2024
DDU-GSK Kinetoplastid Drug Discovery Team
DDU-GSK Kinetoplastid Drug Discovery Team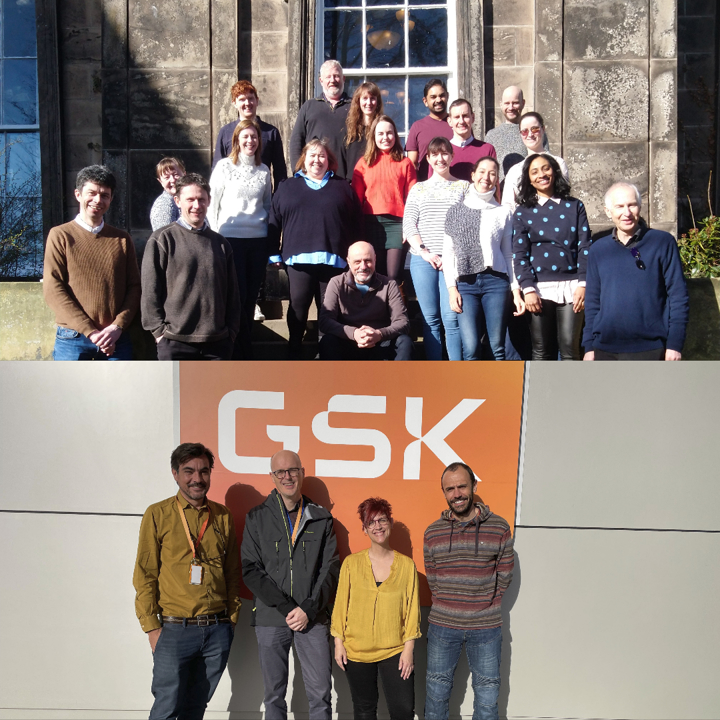 University of Dundee Drug Discovery Unit and GSK Global Health
UK and Global
The 2024 Industry and Academic Collaboration Award will be presented to the DDU-GSK Kinetoplastid Drug Discovery Team. In 2011 the Drug Discovery Unit (DDU) at the University of Dundee and GSK Global Health started a formal collaboration to discover and develop new drug candidates for the neglected tropical diseases leishmaniasis and Chagas disease. The group was initially supported by a 5-year award from Wellcome, followed by several further Wellcome awards as well as significant in-kind contributions from GSK. The collaboration covers the entire pre-clinical drug discovery pipeline, from hit discovery to pre-clinical candidate selection. The team consists of over 20 scientists in the DDU and at GSK global health. Access to knowhow and resource from across the company is available at GSK as needed. The collaboration is currently led by Manu De Rycker at the DDU and Tim Miles at GSK. Leishmaniasis and Chagas disease are two infectious diseases caused by related parasites from the kinetoplastid family and affect many millions of people worldwide. Currently available drugs have significant drawbacks and there is an urgent need for new, better treatments. In spite of this, there are few concerted drug discovery efforts aimed at tackling these diseases. The fully integrated DDU-GSK collaboration is world-leading in terms of addressing this gap and has successfully delivered two compounds to human clinical trials.
On winning the Industry and Academic Collaboration Award for 2024, the team said:
Manu De Rycker, DDU: "The Team is delighted to win the Industry & Academic Collaboration Award. It's great recognition of a truly integrated industry-academia collaboration that has delivered multiple clinical candidates for Neglected Tropical Diseases. The success of our collaboration is down to a brilliant group of like-minded scientists working together towards a single aim."
Tim Miles, GSK: "As scientists, we hope that our work will have a positive impact on society and GSK's collaboration with DDU is a great example of how high quality science and effective industry-academic partnerships can do that, in this case by delivering promising drug candidates for some of the most neglected populations in world."
Kevin Read, DDU: "It has been a real privilege to have been part of such a great team of scientists since the inception of this industry-academic partnership. A fully integrated team with the passion and drive to deliver new safe and effective treatments to those populations most in need."
Maria Marco, GSK: "It's a great honour for the Team to receive this Award, thank you very much. It's inspiring to be part of such a committed, highly innovative and integrated group of scientists who are passionate about delivering potential treatments for NTD patients that urgently need them."
Jacob Bush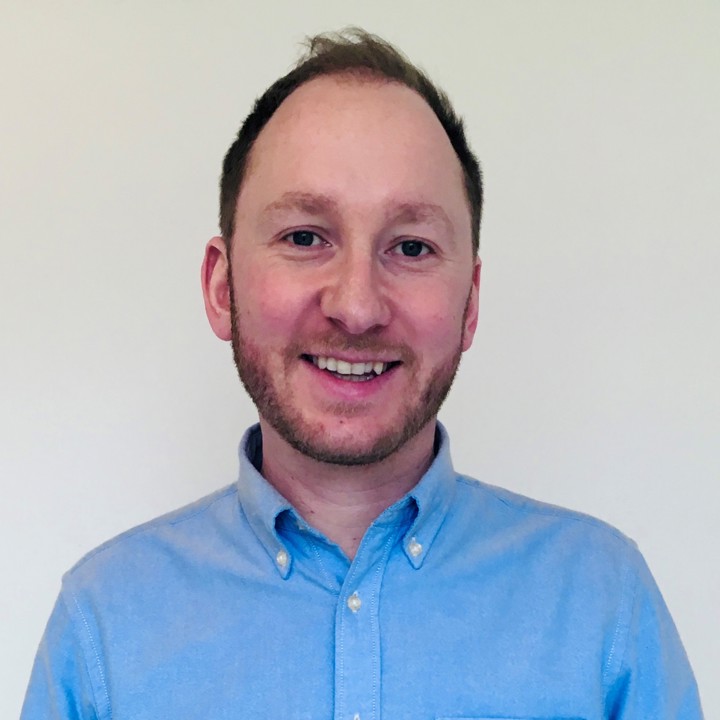 Director (Chemical Biology Department)
GSK
The 2023 Industry & Academic Collaboration Award will be presented to Dr Jacob Bush. Jacob is a Director in the Chemical Biology department at GSK. After completing a degree in chemistry from the University of Oxford, Jake studied for a DPhil in chemical biology in the lab of Chris Schofield. With an interest for translational science, he joined GSK in 2015 to explore ways to accelerate drug discovery. By combining chemoproteomic and chemogenomic approaches using reactive fragments, Jake and his team aim to discover new targets with therapeutic potential and use machine learning algorithms to accelerate the drug discovery process.
Jacob said: "I am delighted to receive this award as it recognises cutting edge work by a team of outstanding scientists both at GSK and at our academic partner institutions. It is a privilege to work with a diverse and energised team to build chemical biology approaches that have the potential to transform biomedical research and accelerate the discovery medicines for patients."
Matthias Trost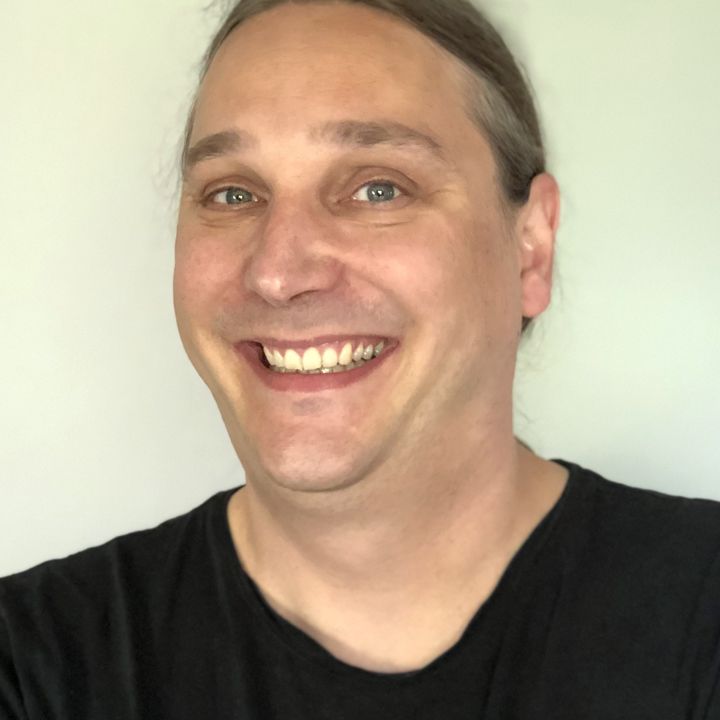 Professor of Proteomics
Newcastle University
The 2022 Industry and Academic Collaboration Award was presented to Professor Matthias Trost. Professor Trost is a proteomics expert with over 20 years of experience in mass spectrometry. He studied chemistry in Freiburg, Germany, and Manchester, UK, completing his PhD in Cellular Microbiology and Proteomics at the Helmholtz-Centre for Infection Research in Braunschweig, Germany and his postdoctoral research at the Institute for Research in Immunology and Cancer in Montréal, Canada. In 2010, he became Group Leader and Head of Proteomics at the MRC Protein Phosphorylation and Ubiquitylation Unit (MRC PPU) at the University of Dundee. In 2016, he was appointed Professor of Proteomics at Newcastle University. Since 2019, he has been a Wellcome Trust Investigator. Matthias' main biological interest is in phagosome and macrophage biology and particularly signalling events in innate immunity driven by phosphorylation and ubiquitylation. In recent years, his lab has additionally focused on clinical proteomics and using mass spectrometry for drug discovery. For this, the lab pioneered the usage of high-throughput MALDI TOF mass spectrometry for drug screening which has attracted significant industry interest.
Matthias said: "I am very happy to have received this award which recognises the fruitful industrial collaborations we have had over the years and is credit to the fantastic students and postdocs in my lab. The award will further promote our translational work using mass spectrometry in the area of drug discovery."
Pamela Williams
Senior Director
Astex Pharmaceuticals
The 2021 Industry and Academic Collaboration Award was presented to Dr Pamela Williams at Astex Pharmaceuticals, Cambridge, UK. She has a DPhil in Molecular Biophysics from Oxford University and is a Senior Director in the Molecular Sciences Group at Astex Pharmaceuticals. Pamela's current focus is on the integration of cryoEM structure determination into the drug discovery process, building upon her interest in structure-based drug discovery technologies. Before joining Astex Pharmaceuticals, she was a postdoctoral research associate at the Scripps Research Institute, La Jolla, where her work focused on the X-ray structure determination of metalloenzymes involved in electron transfer and xenobiotic metabolism. 
On winning the Industry and Academic Collaboration Award, Pamela said: "The recognition of industrial scientists at all levels and stages of their careers is a positive message. I'm delighted that this award rightly highlights the significant impact collaborations between academic and industrial groups can have on pushing forward the frontiers of science." 
Matthew Dalby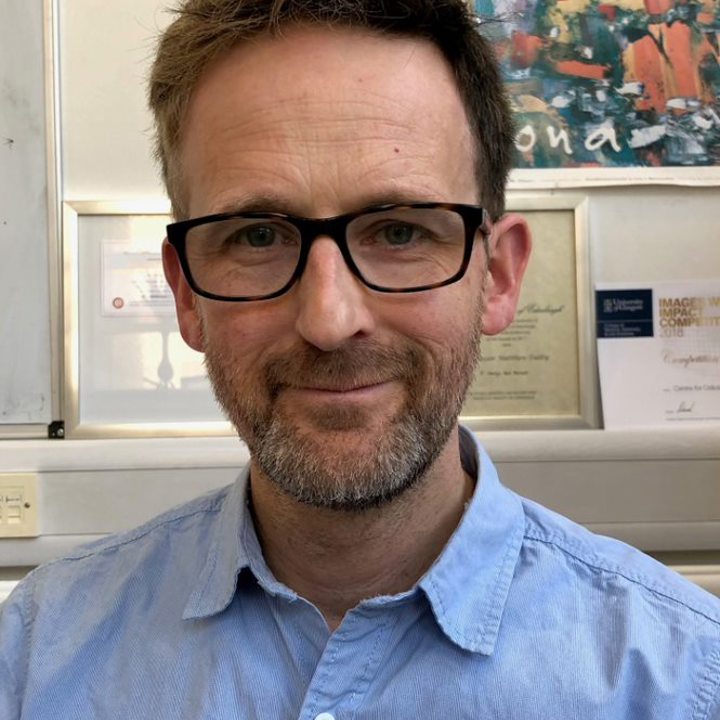 Professor of Cell Engineering
University of Glasgow
The 2020 Industry and Academic Collaboration Award was presented to Professor Matthew Dalby of University of Glasgow, UK.
Matthew obtained his PhD at Queen Mary, University of London on osteoblast response to bioactive composites. After becoming interested in the effects of topography on cell function, he moved to Glasgow in 2000 to work for Adam Curtis, Chris Wilkinson and Mathis Riehle. He secured a BBSRC David Phillips Fellowship to explore mesenchymal stem cell response to nanotopography. In 2014 he became Professor of Cell Engineering at the University of Glasgow and diversified his research to include understanding of cells with protein nanonetworks / ultra-low dose growth factor delivery which recently resulted in a first veterinary trial in a dog where a large bone defect in the front leg was fully regenerated and is now functional and load-bearing. With collaborators, Matthew has developed a nanovibrational bioreactor, the Nanokick, that can be used to drive three dimensional bone formation with no need for material or chemical inducement. More recently, he led a successful bid for an EPSRC-SFI Centre for Doctoral Training where a lot of industrial support was achieved. The CDT aims to build a community of interdisciplinary scientists to develop UK standing in development of humanised 3D tissues to reduce animal experimentation in drug discovery. Matthew has been elected as a Fellow of the Royal Society of Edinburgh. 
Matthew said: "I was very surprised, but clearly delighted to receive news of winning this award. Over the last few years much of my effort has focused on engaging UK industry to form a community to support development of PhD students into diverse careers. This award makes all this effort feel very worthwhile."
Matthew presented his Award lecture on Thursday 4 June 2020 during the 'ELRIG-Biochemical Society webinar: Cellular Therapy'.
Read Matthew's article published in the Biochemical Journal - Hurdles to uptake of mesenchymal stem cells and their progenitors in therapeutic products
Maddy Parsons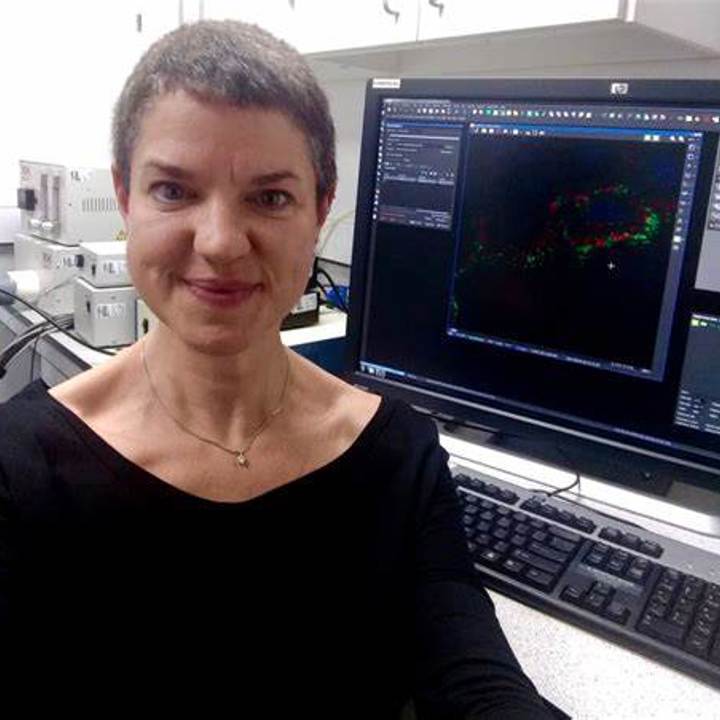 Director
King's College London
The 2019 Industry and Academic Collaboration Award was awarded to Maddy Parsons from King's College London, UK. Maddy's research is focused on using a range of live-cell advanced imaging approaches to enable precise spatio-temporal dissection of receptor and cytoskeletal signalling. A key focus of this research is in the development and implementation of novel microscopy approaches and FRET-based biosensors to study cell adhesion and migration signalling in 2D and 3D environments. Maddy has established collaborations with clinicians to uncover novel molecular mechanisms underpinning diseases such as skin blistering, cancer, wound healing and inflammation. She also heads a number of multi-disciplinary projects with physicists and biophysicists to develop new methods to define spatio-temporal signalling events in living cells, tissues and organisms. As a result of her interest and applications of advanced microscopy, Maddy has developed strong working partnerships with a broad range of industrial collaborators, including Nikon, which led to the establishment of the state-of-the-art, world-class Nikon Imaging Centre at King's College London of which she is Director. She also currently works alongside a number of other biotech and pharmaceutical companies to develop and apply advanced imaging approaches to understand basic mechanisms that underpin drug discovery and therapeutic development.
Read Maddy's article published in Biochemical Journal - Regulation of cell migration by α4 and α9 integrins. 
Of winning the Industry and Academic Collaboration Award, Maddy said: "I am absolutely delighted to receive the 2019 Biochemical Society Industry and Academic Collaboration Award. I am really passionate about Interdisciplinary collaboration, which makes this honour particularly special for me. This award is really shared with all the highly talented and innovative academic and industrial collaborators that I have been privileged enough to work with".
Maddy presented her award lecture at the Biochemical Society conference 'Cell Signaling and Intracellular Trafficking in Cancer Biology: Interplay, Targeting and Therapy' on 21-24 October 2019 in Turin, Italy. 
Stefan Knapp
Award winner
Institute of Pharmaceutical Chemistry
The inaugural Industry and Academic Collaboration Award was awarded in 2018 to Stefan Knapp from the Institute of Pharmaceutical Chemistry, the Buchmann Institute for Molecular Life Sciences at Frankfurt University as well as at the Structural Genomics Consortium at Oxford University. His research team made a major contribution to the understanding of structural mechanisms regulating signalling molecules such as protein kinases, phosphatases, acetylation dependent reader domains of the bromodomain family and the exploitation of this knowledge for the development of highly specific inhibitors. In the framework of a large collaborative network involving many academic research groups and industry he pioneered the development of protein interaction inhibitors targeting bromodomains that function as lysine acetylation dependent reader domains of the epigenetic code as well as highly specific allosteric inhibitors modulating kinase function. 
Of winning the Industry and Academic Collaboration Award, Stefan said "I am extremely honoured and delighted to receive the 2018 Biochemical Society Industry and Academic Collaboration Award. I would like to use this opportunity to thank the outstanding team of scientists in academia and industry that I had the privilege collaborating with."
Stefan presented his award lecture on 10 December 2018 at the University of Sussex.
Read Stefan's article published in the Biochemical Journal - Lessons from LIMK1 enzymology and their impact on inhibitor design