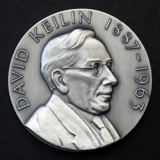 The Keilin Memorial Lecture was first awarded in 1964 to commemorate the late David Keilin.
The lecturer and subject of the lecture are selected, by the Awards Committee, from a field related to the interests of Keilin in bioenergetics, electron transfer and mitochondrial biology.
The winner of the award is given:
The opportunity to present a lecture at a Society event. (The award is presented every other year, however, the Society has the power to modify this programme.)
The Keilin Memorial Lecture medal
£2000 prize money
The opportunity to submit an article to a Society-owned publication
Professor Judy Hirst, the winner of the 2020 Keilin Memorial Lecture, will present her award lecture at the 'Low molecular weight thiols: lessons learned and new perspectives' event, on 6 October 2020.
Recipients
2020: Judy Hirst
2018: Neil Hunter
2016: Michael Murphy
2014: Vamsi Mootha
2012: John Walker
2010: Andrew Halestrap
2007: Hartmut Michel
2005: Martin D. Brand
2003: Peter R. Rich
2001: Stuart J. Ferguson  
1999: Shinya Yoshikawa
1997: Martin Wikstrom
1995: P. Leslie Dutton
1993: L. Ernster 
1991: W. Hol
1989: Q.H. Gibson
1987: R. Huber
1985: H. Beinert
1983: M.G. Rossmann
1980: J. Kraut
1976: S.M.E. Magnusson
1974: E.C. Slater
1972: R.J.P. Williams
1970: E. Margoliash
1969: F. Eigen
1966: B. Chanc
1964: A. Lwoff